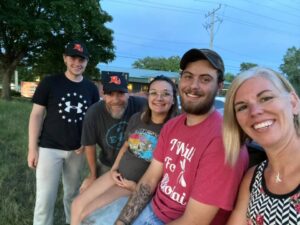 Honestly, I have a lot of fears…
Fear of flying and dying in a fiery crash
Swimming in the ocean and being eaten by a shark
Riding on one of those things in the Everglades, tipping over and being swallowed by an alligator
Snakes
Bridges
Spiders
Sewer grates on sidewalks
Heights and falling
Zombie apocalypse anyone?
I'm not super adventurous. I'm cautious. I'm a worrier. And then my greatest fear became my reality.
When people ask what is your worst fear, I have always said the loss of a child. It was always the one thing I thought I could never endure. Well, here I am, 19 months later, and a child loss survivor. Some days it still feels impossible that this thing I fear most in life actually happened. And even though I survived, loss of yet another child or my spouse is something I am positive I cannot endure again. It will quite literally break my heart completely.
If I could wrap them up in bubble wrap, never let them out of my sight, keep hold as tight as I can, then nothing can happen to them. I can keep them forever. But life doesn't work that way. Life isn't meant to be lived in fear, it's meant to be joyous and fun, filled with adventures and travels. Yet, this fear of loss at times steals my breath and fills me with anxiety. This fear keeps me attached to what is comfortable, not necessarily what I need to keep me moving forward. I know this, I just don't know how to change it.
Most of the fears I listed are fairly irrational or at least not super likely to happen. Honestly, I would have added loss of a child to that list as well because who really believes their child will die before them? That's not how life is supposed to go. It's the elderly who die, not our youth. That isn't fair. That isn't just. Yet it happens, and it happens more often than we think or want to think.
And my child didn't just die. He CHOSE to take his own life. I mean in the great randomness of the world, this definitely shouldn't have happened to me. Things like this don't happen to people like our family. We are just an average, middle class family, working, going to school and doing life things.
I ask myself, what are the odds of it happening twice, and this is where it all goes haywire, because I still can't believe it happened once. The thought of another loss in my immediate household walls – it's unthinkable, it's unimaginable. So, I continue to hold my breath every time my family gets into a car, fly's on a plane, or does anything that requires leaving the safety of our home without me in tow. During the summer Reilly's friends would all want to walk to each other's houses or meet up at Taco Bell. I had to reach out to those moms and let them in on my demons. I had to arrange car rides with parents instead because all I could picture was Reilly being hit by a car on the corner of Williams Lake and Cooley Lake Road.
I feel like this worry, this fear, is the life of any mom, but mine came true. My greatest fear actually happened. My boys are my life. My husband is my life. My new granddaughter is my life. My future daughter-in-law is my life. Please God keep them safe. My heart can't take it.