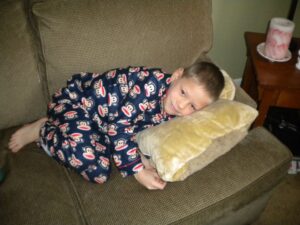 My heart is tired.
There are so many people in my life who are hurting, grieving, struggling. The world is upside down and cruel and confusing. My head spins all day long and now it's entering my sleep time.
I'm doing my best to check in with all those people in my life who need to be heard, who need kind words, who need a little extra love right now. However, I realized today that I need to check in with myself too and that means I may have to check out on helping others for a bit and focus on me. I've been focusing so much on the hearts of others that I forgot that mine is just as achy and needs a little extra care too.
Yet how do I do that? I can't just walk away from others. How do I find balance? That's the million-dollar question, isn't it? And I for real don't have an answer.
Somehow I need to acknowledge my loss and my feelings. While other people have moved on, and I am stronger now than I was, I still miss Nikolai as much today as I did the day he died. The dreams don't ever quit. The remembering is always there. I need others to also acknowledge my loss, even if they don't understand where I'm at with it right now. Unlike physical pain, it's very difficult for people to relate to emotional pain, and especially to talk about it. It's hard.
I also don't want my loss to be a central focus of my life, but it is a huge part of my life and I can't ignore it. And especially in seasons like Christmas, my feelings are bouncing all over the place – like a pinball machine. I can't help it. Someone is missing from my season. I don't care whether this is your first holiday without someone you love or the 20th, it still hurts.
While I try to help others, I feel myself sinking in the muck. I'm biting back tears constantly, forgetting things, snapping at people and acting sometimes in a way that I often regret. I ask you to grant me some mercy. Overlook it. My emotional tank is so empty right now and many days I feel like I'm going to shatter like a glass ball falling off the Christmas tree.
I try not to talk to people about my feelings because I feel like either they don't want to hear it, they have their own grief they are drowning in, or they don't know how to handle it and it just becomes awkward for everyone. The few times I thought about starting a conversation, I held back because I just don't want to bring a room down, you know what I mean? After all, it's the most joyous season of the year, right?
All of this leads me to the same question… how do I balance reaching out and loving others while simultaneously taking care of me? I still don't have any answers except that maybe we just extend each other some grace right now and know that we are all in a tough spot. Maybe we lavish love on each other through prayer and forgive someone when they don't reach out when we think they should.
Hebrews 4:16 – Let us then approach the throne of grace with confidence, so that we may receive mercy and find grace to help us in our time of need.