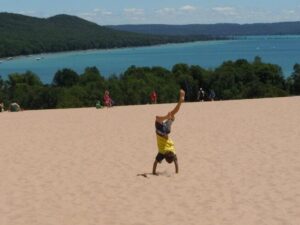 I've been thinking about Beans a lot lately. Not a day goes by that I don't think about him a dozen times; however, the last few weeks have been consuming. I don't know if it's the season I'm in right now or if it's because we are coming up on the milestones of all milestones… his birthday and his death date, all in the same month. All I know is that my heart seems to hurt a little bit more right now.
Did you know that Nikolai's favorite color was red?
He loved tacos and donuts.
His favorite cake was white cake with white frosting.
His favorite author by far was Rick Riordan and he read every single book of his a million and a half times.
He doodled more in school than he did actual work.
He struggled his whole life with math and writing.
He had a frequent flyer card to the ER because he was so curious and literally fearless!
He loved riding his bike more than just about anything.
He could burp the entire alphabet.
I write these things out because I am afraid that we will forget who he was. I don't want Nikolai to be forgotten. I have big memories and stories that I love to share. Yet some days I feel like the everyday "normal" moments that we often take for granted are starting to slip away – memories lost. Little things like how he used to meet me in the garage every single day when I got home from work to ask me how my day was. Seems ordinary, but to me, looking back, those were special moments that I can't ever get back and I don't want to ever forget.
The world around me has moved on from Nikolai's death. I know this. It's a hard pill to swallow, but he wasn't part of your day-to-day so I get it. That's why these memories have become so precious. Things I can share with the world so no one forgets him. Nikolai isn't just another suicide statistic. He was a 15-year old kid who lived and loved. He was my kid.
And while I could live the rest of my life with what if's and coulda, woulda, shoulda's, I can't change anything. So instead of focusing on the things I can't change, I choose to focus on the memories of an amazing kid who lived with more joy in his heart than any single human I've ever met.
If you knew him, keep talking about him. Keep his light on for the world to see.