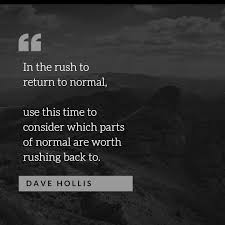 "In the rush to return to normal, use this time to consider which parts of normal are worth rushing back to." – Dave Hollis
Have you really given this any thought – this return to normal and what it looks like to you? Are you going to jump back into "normal" with two feet? Are there things about the stay at home lockdown that you enjoyed and if so how are you going to incorporate those things into your life moving forward?
I have discovered a lot about myself in this lockdown period. I have been working from home since March 13. I was just told this week that I will be required to come back into the office to work on Monday. I have spent the better part of two days now crying, worrying and becoming more bitter by the minute because I realized a lot of somethings over the last 63 days of being at home… there isn't any place I'd rather be than home, other than missing my friends, these people I share my house with are the people I want to spend all my time with, this puppy we got is the exact therapy I needed, these daily walks and out loud prayer have lifted my soul, and I've realized that my passion lies elsewhere. Going back to this daily office job is not my passion and I realized I'm dreading putting my all into something that doesn't make my heart sing.
So today I have made the decision to quit crying and worrying and swallow the bitter pill. I have decided to take all that negative energy and turn it into a plan of action for my life and the things I am passionate about and the people that I love. What kind of impact do I want to have? What are my goals and dreams?
I don't want to return to "normal"; although I would love to go to my local coffee shop on a Friday morning and hug all the people like the good ole days. I don't want to return to the normal daily grind of working for someone else on their time and in their way, for their cause. My life was made for more. I think deep down, I knew that the day Nikolai died.
This quarantine has taught me quite a bit; however, what has really hit me square in the face is that the one thing that has affected ALL of us, yet been talked about the least, is mental health. I don't think I am scientifically off when I say that more people have and will suffer from mental illness during this time than any physical ailment. I am not trying to be insensitive to those impacted by this virus (my husband had it), but at least we are talking about it. At least there are actions surrounding prevention, spread, cures. What about mental health? What have we put into place for those suffering from mental health?
This lockdown has brought most of us mentally to our knees at one point or another. Watching friends and even strangers struggle makes my heart hurt. In the midst of the coronavirus pandemic, we are also on the brink of a mental health pandemic – neither of which we are equipped to handle.
A recent poll by the Kaiser Family Foundation found that 45% of U.S. adults said the pandemic has affected their mental health, with 19% saying it has had a major impact. A majority of Americans (57%) also said they were worried they could be exposed to COVID-19 since they couldn't afford to miss work and therefore couldn't stay home. (US News source)
Even before the coronavirus outbreak, roughly 1 in 5 Americans experienced a mental illness within a given year, with some 10 million adults having serious thoughts of suicide. And these are just the adult statistics. What about our kids and the affect this is having on them?
And while we are discounting and even eliminating insurance barriers and costs associated with physical health right now because of coronavirus, we aren't making these same concessions for those suffering from mental health. Insurance coverage, or lack thereof, is the greatest barrier to most people seeking mental illness assistance. We need to take a hard look at providing lower cost options for people to find help and we must focus on both prevention and recovery, teaching people how to navigate through the different stages in their lives.
The teaching part is so important because it's clear that we have all struggled this quarantine season. While we as humans are not equipped for lockdown or how to handle it – if we had the tools to navigate mentally through tough times, maybe, just maybe we could weather this storm better.
Because whether you are an essential worker, working from home, working from home and also teaching your kids, students, graduates, elderly, living home alone – whatever category you fall into, I see you. We have good days but we also have bad days. Those days when we feel like we just can't do it anymore. We are at our wits end. We are lonely. We need human interaction. We need the world to not be so scary. We need empathy. We need kindness.
And so I ask again – what part of your new "normal" are you rushing back into? Has this quarantine changed you or the way you think? Has it given you a new perspective on life and who you want to be? I encourage you to take this time to find yourself. Find your passion. Be kind to yourself and to others.
And if you are struggling, please reach out for help.
Common Ground – 800-231-1127
National Suicide Hotline – 800-273-TALK