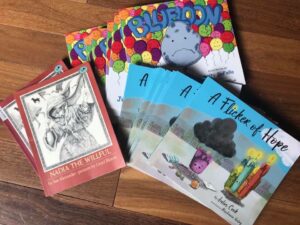 Project #2 for those who are interested.
Our kids are Houghton kids. The principal there gave us the most lovely card at Kola's funeral. In it she wrote that she was purchasing three books for her social worker to utilize when identifying young students that may be struggling.
I adore this so much. 💙
If we can identify and help kids at onset, maybe, just maybe we can turn things around for them. Because of Ms. Grimes and this gesture of helping others, we have now teamed up with the school district to purchase these same books for all of our elementary school social workers. In addition, Ms. Grimes is also looking into other books to help kids with social and emotional self-care. We are proud to work with her and the school district social workers to assist in getting the additional books needed in the near future.
We are so blessed to have the staff and administrators we do in Waterford. They truly care about our kids and want the very best for them. Thank you for allowing our family to be a part of this😊